Our scheduled maintenance program will make it as convenient as possible for you─ simply pick between weekly, bi-weekly, or monthly cleaning and we will be out at our regularly scheduled time to keep your pool in its best condition throughout the season.
Our CPOs are committed to servicing your pools, and keeping a close eye out for upcoming needs so you aren't stuck in the future.
Vacuum pool
Skim water surface and removal of debris
Test pool water chemistry and treat as necessary
Brush down walls and tile line as necessary
Backwash filtration system when necessary
Furnish service report after each visit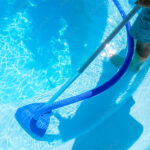 For more information or to schedule any of our services, contact us now!
Make a splash without the hassle-
leave your pool with us!