Thinking of converting to a saltwater pool?
A saltwater system can work with your existing equipment & automatically activates with your pump every day to keep the water looking beautiful.
A saltwater system uses a salt chlorine generator to convert salt into chlorine to sanitize the water, using a process called electrolysis. Not only can we install a new system, but we will also balance the salt level, so you have very little maintenance for the rest of the season!
Some of the benefits of converting to a saltwater pool include:
Lower annual savings on chemical costs
Softer, gentler water
Proven safety and reliability
A healthier swimming environment
The lower chlorine level in saltwater pools means less damage to hair and swimsuits
No hazardous pool chemical storage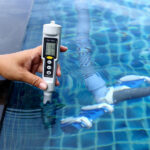 Already have a saltwater pool?
We use only the highest quality products and can help you maintain your saltwater pool throughout the summer season to ensure proper treatment and prevent damage such as corrosion.
For more information or to schedule any of our services, contact us now!
Make a splash without the hassle-
leave your pool with us!