Save yourself the work of closing your pool!
Winterizing your pool correctly will help protect your investment while safeguarding your next season to be as hassle free as possible. Our experienced professionals will perform every detail required to ensure your peace of mind.
Blowing out of all plugs and plumbing lines
Winterization of pump and filter
Removal of ladders, diving boards, handrails, baskets, fittings, etc.
Water balance chemical testing
Distribution of winter closing chemicals
Installing pool cover
Inspection of all equipment for proper closing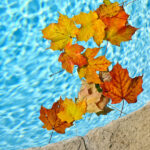 Don't forget to ask about a new installation or replacement of a safety cover! Safety covers not only offer extreme protection but are an attractive addition to your investment.
For more information or to schedule any of our services, contact us now!
Make a splash without the hassle-
leave your pool with us!